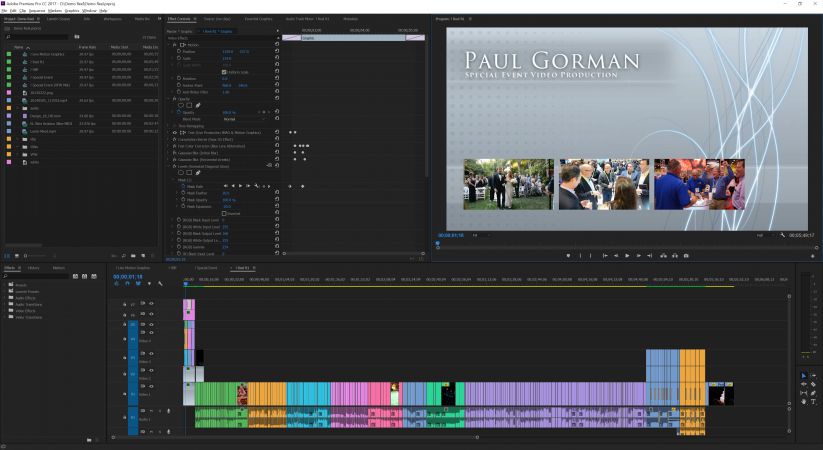 Demo Reel
Paul Gorman's Video Production Demo Reel
This demo reel is additionally available in full 1080p HD on Vimeo at:
Paul is a quick, resourceful, and detailed soup-to-nuts videographer and editor. From live events and stage productions to packaged training videos and social media demos, Paul has staged, recorded, mixed, cut, colored, and packaged an example of most everything. Paul's comfortable & experienced working a challenging project alone, and working along with a large crew.
Starting 15 years ago, Paul spent nearly a decade in the Venetian casino hotel in Las Vegas as lead video engineer. Paul was the videographer of over 800 weddings, recorded and edited Sands Las Vegas employee training videos, created many of the video marquee and in-room television advertising, and was the video director for the property's live stage shows.
More ▼
For the past 6 years Paul has enjoyed working in a small 8-person office where he recorded & packaged demo videos of musical bands, acts, and performers. Paul covered all the details including staging, lighting, providing direction to the talent, audio recording & mix, camera operation, and post editing & coloring. Paul found that building a friendly positive rapport with the musicians and acts, while directing them to put their best face forward, was a delightful challenge that most always worked out amazing.
A 6-minute sample reel of in-studio band recordings is available for review at: http://irev.net/sample/band-demo-videos
Away from the Vegas Strip, Paul has directed video production for the Veterans of Foreign Wars at the VFW's National Convention for the past four years, working carefully on budget to make a big impact for the attendees.
Paul is great collaborating with clients and crew, seeking out their wishes and hopes, while paying attention to every detail in lighting, audio acquisition, wardrobe, location, and the camera's technical details. Paul's adept and thorough in packaging beautiful results in engaging multimedia videos within Adobe Premiere.
The demo reel here shows many examples of Paul's studio and real-world work since 2015. Motion graphic video samples are available for review at: http://irev.net/sample/motion-graphics
Loading video for Demo Reel
Corporate
Demo Reel
IMAG
Live
Live-to-Tape
Low-Light
Package
Party
Social
Special Event
Stream
Studio
Switching
Wedding