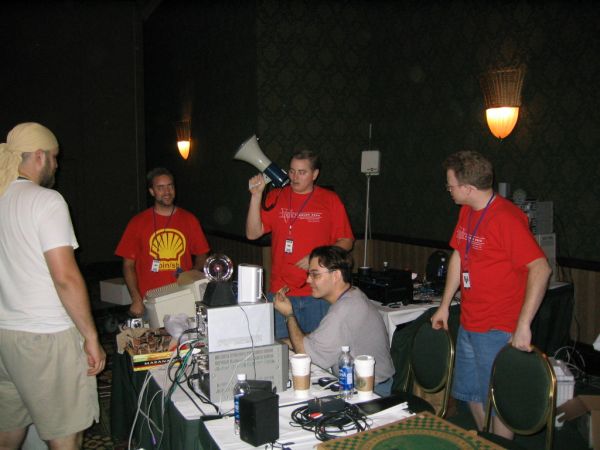 Toorcon Hacker Convention
3-Years Network Administrator of a Hacker Convention
Paul volunteered as the lead network administrator for invited guests and general attendees of the Toorcon hacker convention in San Diego for three years: 2002, 2003, and 2004.
Operating under the name "Presence", Paul provided the majority of the equipment & configuration each year: Servers, NOC workstations, monitors, network hubs & switches, wireless access points, cabling & power, projectors & PA system for general area, and CD duplication for attendee materials. Paul also managed other volunteer staffers, troubleshooting of attendee's technical issues, and was communications liaison between Toorcon organizers and attendees.
Additionally, Paul made sure sponsorship advertising and announcements were always projected on display, with a mix of live motion graphics and text prompts.
More ▼
In what was truly a "hostile network environment", Paul made sure that attendees had ample opportunity to demonstrate their hacking skills on a network that was stable and secure. While attendees Internet connectivity was minimal, those attendees on the LAN were able to swap files, probe network resources, hack eachother's computers, and cause general chaos without affecting the convention facility's network or the Internet as a whole. The backbone networking devices and servers remained secure throughout all three of Paul's years.
In 2003, attendees connected 150 devices to the network, and over 400 devices were online in 2004. The attendee network was comprised of FreeBSD servers with custom DHCP, DNS, web, and firewall configurations that Paul created, tested, and improved upon each year. All equipment was driven out from Paul's inventory in Las Vegas for the event each year in San Diego.