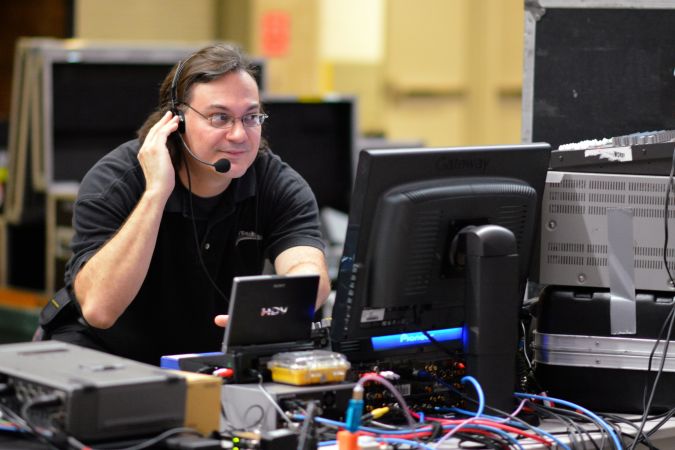 Video Production VFW Convention
Multicamera IMAG Direction, Graphics, Engineering
Paul has been honored to run the video production of the VFW Auxiliary National Conventions and assist video engineering of the VFW National Conventions for the last 5 years.
Invited to the VFW Auxiliary through The Videoworks out of Kansas City, Kansas, Paul has directed 2 & 3 camera IMAG and graphics for live local and internet audiences, receiving praise from management and attendees alike for bringing the audience closer to the action and focusing on the subjects' emotions in such a large event.
While there is no doubt the camera and technical prowess of the crew at The Videoworks is phenomenal, Paul is proud to add to their talent and helm the on-the-fly decision making, direction, and challenges of the VFW Auxiliary's large annual event.
More ▼
Additionally, supporting the crew working the VFW National Convention in the same convention facility, Paul enjoys collaborating with the crew in engineering reliable and clean live video for audiences both local and viewing the stream on the Internet.
Paul assisted in the VFW Auxiliary's transition from standard-definition 4:3 video to HD 1080p 16x9 video, and from analog to digital. While some events have enjoyed three cameras, the majority of the live IMAG is two cameras, and Paul was able to make the most of both scenarios to engage the audience. Paul's Clearcom/intercom direction is detailed, clear, and decisive. Multiple AUX buses with two different PROGRAM feeds were trivial for Paul to operate, and for two years Paul has provided his own recording and video mixing equipment. Paul is adept at mixing in PowerPoint and video playback slides, even tweaking slide graphics to fix aspect ratios, fix fonts, and correct errors during the event. Love webcast streaming, recordings of the event, and post-event media management is all part of the VFW package.
With five shows from 2014 through 2019 recorded as wonderful & successful events, Paul looks forward to the next year's VFW National Convention!